Posted on: Tuesday December 6, 2011
Pictured below: 
Julie Schonfeld and Susan Turnbull, JWI Board of Trustees Chair (Photo: Michael Kress)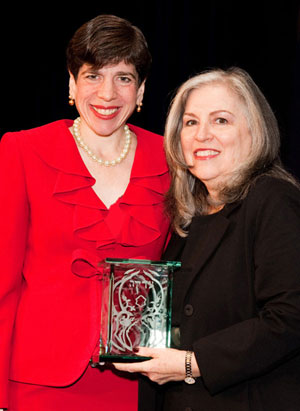 Washington, DC – Jewish Women International (JWI) honored Rabbi Julie Schonfeld yesterday with its 2011 Women to Watch award. Rabbi Schonfeld is the executive vice president of the Rabbinical Assembly (RA), the international association of Conservative/Masorti rabbis. She received the award for her commitment to the future of the Jewish people, her voice in the public square advocating the work of social justice as a fundamental Jewish obligation, and her approach to reimagining the work of denominations as visionary religious movements.
Rabbi Schonfeld was honored Monday at the 14th annual Women to Watch celebration at the Washington Marriott Wardman Park Hotel in Washington, DC, which included a gala luncheon, awards ceremony and a dynamic honorees' discussion panel.
Rabbi Schonfeld, the first woman to hold the position of executive vice president at the RA, was named one of the 50 most influential Rabbis by both the Forward and Newsweek in 2011. Her work and influence in the Jewish world has garnered her an appointment to President Obama's Council for Faith-Based and Neighborhood Partnerships. Prior to becoming the executive vice president, she served as director of rabbinic development working with newly graduated rabbis looking for pulpits and developed programming for rabbis on clergy self-awareness and boundaries. She oversaw the Jewish community's first and only study of women rabbis' career paths and developed numerous programs to further the career advancement of female clergy. Prior to working at the RA, Rabbi Schonfeld served as a congregational rabbi at the Society for the Advancement of Judaism, a historic congregation on the Upper West Side of Manhattan.
"The Conservative movement is not its institutions; it's a community of people inspired by powerful ideas who want to have an impact on the world," said Schonfeld. "But I also believe strongly in the ongoing value of large, networked institutions. It's about figuring out how these institutions can be most effective."
Schonfeld is one of ten exceptional Jewish women from across the United States who received the 2011 Women to Watch award.
"Women today are making an immeasurable difference in the world, and these Jewish women, who have accomplished so much in their fields, serve as role models to the next generation of Jewish girls looking to make their way," said Loribeth Weinstein, JWI's executive director. "We are thrilled to honor these worthy women and to give them and their accomplishments the spotlight. This is how we ensure the proliferation of women's leadership."
Together with Rabbi Schonfeld, the others selected for their unique contributions are:
Mia Bauer, New York, NY, chief creative officer, co-founder and vice president of Crumbs Bake Shop; Abby Greensfelder, Washington, DC, founder, owner and executive producer of Half Yard Productions; Kim Morris Heiman, Cincinnati, OH, president of SK Textile and managing director at Standard Textile Company; Alexis Kashar, New York, NY, activist attorney for the deaf and hard of hearing community, and chair of the civil rights committee for the National Association for the Deaf; Kathy E. Manning, Greensboro, NC, first woman chair of the board of trustees of The Jewish Federations of North America; attorney specializing in litigation and immigration; Rynthia Manning Rost, Bethesda, MD, vice president of public affairs for the Government Employees Insurance Company (GEICO); Ellen Stone, New York, NY, senior vice president, marketing at Bravo Media; Abbie Weisberg, Chicago, IL, CEO/executive director of Keshet, a non-profit guided by Jewish values; Esther B. Newman, Rockville, MD, founder and executive director of Leadership Montgomery, a 22-year-old nonprofit with nationally-recognized community leadership programs.
For more information please contact:
Jake Sharfman, Puder Public Relations
Phone: 212-315-1201
Email: info@puderpr.com