Posted on: Wednesday November 20, 2013
Interview with Jeffrey Abraham, Congregation Sons of Israel, Nyack, NY

Who can resist watermelon and stories on a summer day?
That truism became the inspiration for Congregation Sons of Israel in the summer of 2011 as they brainstormed ways to bring in unaffiliated young families and integrate them with those already members. The result? "Watermelon Wednesday Summer Story Time," featuring a Jewish theme each week.
"The program became our biggest success," says Jeffrey Abraham, reporting that for a synagogue of only 180 families, attendance of 20 to 25 families each week -- about 65% of them nonmembers -- was "a significant statistic." In 2012 Watermelon Wednesday (like Broadway theaters) expanded to two time slots -- 10:30 AM (generally attracting families with preschool aged children) and 4:30 PM (families with children between four and eight years old, coming after camp or other daytime activities) and attracted over 40 families. This past summer numbers continued to grow as more and more families new to the area joined the fun each week.
As Jeffrey reports, membership numbers have grown as well with many of the Watermelon Wednesday families joining Sons of Israel. Another benefit of the program has been the interaction of different generations thanks to congregants of all ages serving as greeters each week. The program has been so popular that families not only talk about it during the summer but ask all winter long when it will resume. Parents report that they look forward to the story time each week because they learn what they've forgotten or never learned as children.
The Off-Season
Of course it's critical to stay in touch with these families when watermelon isn't in season. The experience with the summer program has encouraged the community to create compelling programs during the school year and also to make certain that every one involving children or families has an educational component. Jeff's advice: If you'd like to start a program like Watermelon Wednesday be sure to have a few core families committed to the program willing to help get the word out in the community. Where they plant the seeds watermelons may grow!
Watermelon Wednesdays: Themes from Summer 2012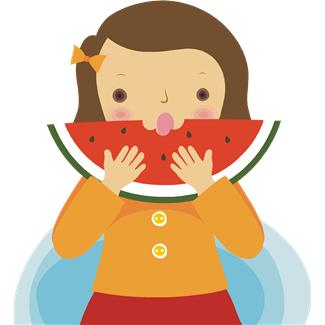 Watermelon/Fruit
Noah's Ark
Mitzvot
Israel
Creation
Torah
Shema/prayers
Ten Commandments
Synagogue
Shabbat
Rosh Hashanah (apples & honey!)
But that's not all the news from Nyack…
Not content to launch a successful summertime program for young families, Congregation Sons of Israel has launched a preschool "from scratch", an extraordinary feat. They began in 2012 with an inaugural 2's class of nine student and as the 2's became 3's the school added a new 2's class. Jeff notes that this school has helped build up a young core at the synagogue and put the synagogue on the map since they now have programs for children of all ages.
The preschool has not only grown but has established a very good reputation in the wider community. Of particular pride is its Hebrew Immersion component. During certain hours of the day only Hebrew is spoken so the children are gaining basic language skills in English and Hebrew.
The school has been so successful that the congregation opened up a summer camp for 1-4 year olds this past summer with 16 attending, yet another program that has helped attract new young families to the shul. Of course it's still challenging to convince parents that this new school is the right school for their children but that's the challenge any preschool faces – especially in its early years.
The bottom line for all these programs – Watermelon Wednesdays to a preschool and on to a  summer camp – is to be sure you know your community and have a core of interested families who will be on board in creating and publicizing these programs to their friends and neighbors. 
---
A native of Albuquerque, New Mexico, Jeffrey Abraham received his Bachelor's degree in Jewish Studies and a Master's in Jewish Education from the University of Judaism in Los Angeles. Then with his new wife Lauren, he headed to New York City to study at the Jewish Theological Seminary. Five years later (which included one year of study in Israel), he received his ordination from JTS. Shortly thereafter Abraham assumed the pulpit at CSI and moved to Nyack with Lauren and their two young sons, Benny (3) and Henry (1).