Posted on: Friday August 10, 2012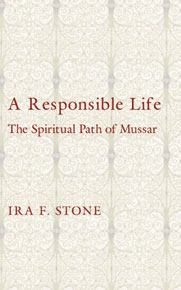 Ira F. Stone
ISBN: 0-916219-31-3
Pages: 320
"Love your neighbor" is the central obligation of Jewish life. Mussar, a late 19th century Jewish renewal movement, focused on this precept as a means of self-improvement and spiritual growth. Through the practical applications of Mussar, one can learn how to awaken to a spirituality that is compassionate, moral, and generous. In this book, Rabbi Ira Stone provides a contemporary theological framework for understanding Mussar and describes how participation in a Mussar group can offer support and guidance for this powerful spiritual practice.
"This book is a marvelous gift to a generation seeking new spiritual paths in order to live a richly Jewish and deeply human life. Ira Stone uncovers a neglected treasure in modern Judaism, the 19th century Mussar movement which sought to develop the human being into a mensch by reuniting mitzvot and morality. Stone gives us his post-modern theology of Mussar, guides us through its theory of the process of self-development using its methods of self-improvement. In a final tour de force, Stone shows how, in the mode of Mussar, prayer and halakhah awaken our spirit and teach us to concretize God's love and our love for fellow human beings. The appendix introduces us to one of the great teachers of the Mussar movement, Rabbi Simcha Zissel Broyde of Kelm and translates and annotates excerpts from his writing. This book is a treasure to be read and reread."
- Rabbi Irving Greenberg, President, Jewish Life Network/Steinhardt Foundation
"Sometimes we do not know what we should do morally, but sometimes we know full well what we should do but lack the strength of character or motivation to do it. The Mussar movement developed in Judaism to help us do what we know is right. This book is a wonderfully clear and helpful exposition of one form of Mussar. As such, it has the power to do nothing less than improve our moral character and change our lives for the better."
- Rabbi Elliot Dorff, Author of To Do the Right and the Good: A Jewish Approach to Modern Social Ethics
"Here you will find hidden gems of the authentic, time-tested Jewish spiritual tradition of Mussar -- and be shown steps you can take to open your own heart. Rabbi Stone passionately reminds us that when we extend our hand to help another bear their burden, the pathway to the Beloved we seek opens before us."
- Alan Morinis, Author of Climbing Jacob's Ladder: One Man's Rediscovery of a Jewish Spiritual Tradition
"Ira Stone gives us a lucid and thoughtful account of the writings of the great Mussar teachers. His passion and compassion are apparent on every page, as he conveys his vision of a contemporary Jewish ethical practice. This book deals with vital issues, such as the spiritual imperative of responsibility for the other in a way that is both philosophically cogent and accessible. A fine study."
- Avivah Gottlieb Zornberg, Author of Genesis: The Beginning of Desire
"For over a decade, Rabbi Stone taught courses on Emmanuel Levinas and Mussar in the Jewish Theological Seminary's Department of Jewish Philosophy. This impressive study brings together his two scholarly passions and demonstrates their intrinsic congruence. In the hands of this gifted and experienced teacher, this material becomes not only accessible but even positively engaging. Every serious student of Jewish thought is in debt to Rabbi Stone and to the Aviv Press for this gift."
- Rabbi Neil Gillman, Professor of Jewish Philosophy, Jewish Theological Seminary
"Ira Stone has written a learned and profound introduction to the theory and practice of Mussar, a great contribution to the recent revival of Mussar in the Jewish community. In a way that is both challenging and accessible, Ira Stone offers a compelling theology for the contemporary Jew. This book will be of great value for both students of the sacred psychology of Mussar and for all Jewish seekers and students of Jewish theology."
- Rabbi Amy Eilberg, Codirector of the Morei Derekh training program of the Yedidya Center for Jewish Spiritual Direction