Posted on: Friday August 10, 2012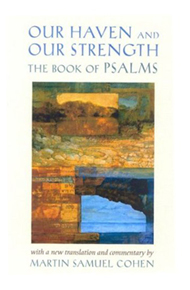 Martin S. Cohen
ISBN: 0-916219-22-4 
Pages: 504
Throughout the generations, the Book of Psalms has been a perennial source of inspiration and solace for the Jewish community. Our Haven and Our Strength: The Book of Psalms, featuring the Hebrew text with a fresh gender-neutral translation, invites readers to experience fully the poetry of each psalm. Martin Samuel Cohen's probing commentary focuses on each psalm's spiritual intent, thus bridging the gap between the worldview of the psalmist and the perspective of the modern reader. Appropriate for devotional and study use, this book inspires readers to embrace the beauty of the Psalms in their individual quests for spirituality and faith.
"This is a helpful and illuminating companion to the Book of Psalms. In Our Haven and our Strength, Martin Samuel Cohen gives us a vivid translation of the Psalms; each is introduced by a commentary that clarifies its main themes and focuses attention on the existential questions of the reader who seeks to come closer to God. Such a reader is gently challenged to explore his or her own faith in response to these ancient Jewish words."
- Avivah Gottlieb Zornberg, author of Genesis: The Beginning of Desire and Particulars of Rapture: Reflections on Exodus
"A beautiful rendering of the Psalms, with a commentary that makes each Psalm fresh, specific, and very helpful in dealing with suffering and challenges to faith."
- Joseph Telushkin, author of Jewish Literacy and The Book of Jewish Values