Posted on: Tuesday August 27, 2019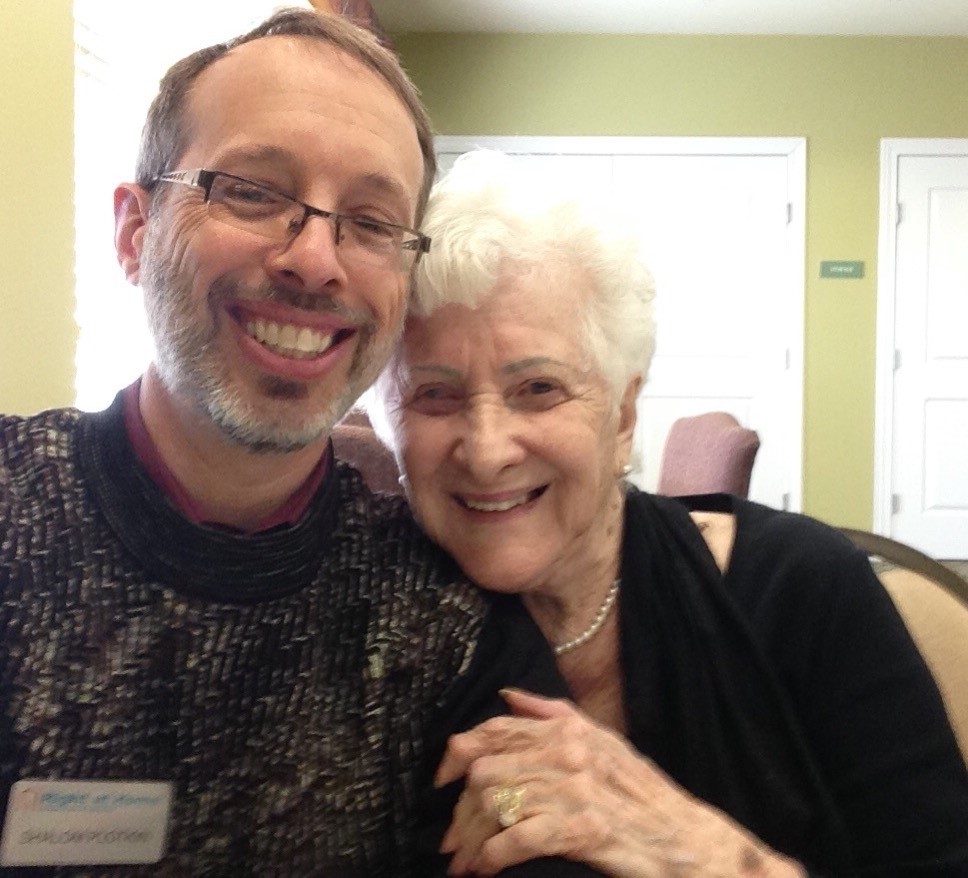 As part of our ongoing efforts to highlight the wonderful diversity of the Conservative/Masorti rabbinate, we spoke with our colleague Shalom Plotkin, who has been hard at work building his Right at Home business. Below, he shared how he worked through the transition process, how his rabbinic training helps him connect to families in need, and the satisfaction he gets from his career path.
Can you provide us with a quick overview of what you do managing the local Right at Home office in Cleveland?
I'm the owner and the operator of a private duty homecare franchise, so in addition to the rabbinic work I do in the community, I'm also an entrepreneur and started this business to look after the needs of some of our adult neighbors to help them stay safe at home.
Do you have previous professional or personal experiences that prepared you specifically for this role?
I think some of the work that I was doing in congregations helped to prepare me to do more of this, what I call senior services, and I was already doing quite a bit of bikur cholim, visiting congregants of the synagogue in their homes or when they were hospitalized. I always enjoyed doing that, and now I'm just doing a lot more of it.
What are some of the challenges that you have faced in your work, and what are some of the things you have done to overcome them?
One of the challenges I had when I was first starting out was that I wasn't sure whether it was going to be a successful business or not, so I continued to serve as a congregational rabbi—that's what I had been doing previously, so I took a part-time pulpit, to make sure that I still had some parnasah. I also became a hospital chaplain, which was a paid position at the local VA hospital; that's how I knew that I would be able to continue to provide for my family.
And the challenge in the business was that I needed to find some caring employees, and I needed to look for some patients, some folks who would need our services. I had additional training from our Right at Home franchise, so I studied for weeks to learn some of the recipes for success. I've been running the business for five years with my wife. We have about 117 employees, and we help about 50 individuals, couples, or families each day.
Do you have things that you've learned from starting this business, tips, and things to keep in mind for people who want to start their own businesses?
I think it's good to cast a wide net and to ask lots of questions, and to be open to what comes from that research. For me in particular, it's about looking inside and asking where did I want to spend the next number of years, and how did I want to share my rabbinic talents and religious passion as well. You know, I felt like this would be an opportunity to serve the physical needs, not just of my own family (we started this business to help my in-laws). Professionally, I feel like I'm teaching and sharing. People come to me for guidance; I do a lot of interfaith work, actually. And we're also active in some of the charitable endeavors in the community. For example, we support Bikur Cholim, we support a lending library of durable medical equipment, we support Huntington's Association and the Alzheimer's Association, and I'm doing quite a bit of teaching -- actually a huge amount of teaching -- which I had enjoyed doing in the pulpit. I teach, for example, classes like Fall Prevention. Recently, I was asked by one of the local synagogues to talk about medical marijuana. So, it's been rewarding and I feel like it's been not just successful, but profitable.
It sounds like you're doing so much and you've enjoyed so much success. Is there something specifically that you feel is the best part of your work?
I think it's really rewarding. I know that we have been able to help families have less stress. For example, there might be someone who is in hospice who is thinking about dying and the legacy they want to leave, and that sort of thing, so maybe we'll have a chance to sit with them at night while the family is asleep, and maybe the hospice nurse will come in a few times, and we might be able to do some of the other things. We can help them to frame a conversation or maybe leave a message or a recipe for their loved ones. That would be an example of something that I felt was satisfying.
That does sound extremely satisfying.  Can you talk about the compensation and some of the advancement potential for a career like this?
I really liked the idea that I could choose where we could live. In the pulpit, basically one of the things we would do to advance would be to move to a larger community or a larger congregation. And I did that, and I enjoyed that. But it wasn't necessarily where we had grown up, or been raised. In this case, it gave me the opportunity to move back to Ohio, specifically to Beachwood and Shaker Heights where Elise is from, next to basically the neighborhood where she grew up. 
We spent some really satisfying years with her dad who had Parkinson's for like 25 years, he got to know his grandkids, and they got to know him. We had some good days among some difficult years. We were also able to support our family with our caregivers who were compassionate and trained. We were with them about 17 hours a day in those final months. So that was kind of neat, I kind of like that advantage that you can choose where you're going to do it. You have the longevity to know that you're going to be there for a while. I didn't have to worry about a board or a contract or anything like that. I'm the owner of the business, and also it's satisfying to know that I built something that is valuable. That just has a feeling, sometimes it's hard for me to tell, like when I was preaching in the pulpit, am I making a difference? Sometimes it was hard to see, okay this is a message I care about, I worked hard at crafting the words, sometimes it was received well and sometimes I just didn't know. In this case, I can see the outcome, like I know if we've been able to help somebody feel dignified in their home and clean and die in peace, you can see that.
What skills did you transfer from the pulpit into your private practice?
Connecting with people, listening. Listening is really important. Understanding, creating relationships, getting to know the community. Now, being a community steward and a shepherd also uses communal and family resources. Those are some things that are directly applicable. The skills in teaching as well. In one way you're sort of a—I mean, you're selling home care, I don't know if I was really selling religion, or for god, or faith, or tradition. Sometimes it felt a little bit like that. I know in the pulpit world, I was managing a staff and a team, there wasn't always a large team, but there could have been a dozen folks, so, now I have maybe a few more folks, 117 employees, but some of the same leadership strengths are still applicable. 
It seems like you were able to transfer over a lot of those skills, especially working with people. Is there anything else you'd like to share with us?
Now what I did is, the parts of the business I was less interested in, like the billing and payroll and some of the financial investment, I mean I could have done those things, I just found them personally less rewarding, I have other people on my team to do those things. I could choose the parts that I enjoyed doing the most. Something else that we did, I bought a second franchise unit, basically so the next works to the first one. I run both from the same office but they're both going strongly now, so the recourse of it was slightly greater, but the reward was significantly greater, so I basically do what you call a double down.
I don't ever have to worry about, for example, asking the day school where our children attend for financial aid any longer. I can be a contributor to their Ramah overnight camp, as opposed to asking for financial aid, I am an active member at a couple of different Conservative congregations, that are pretty close to our home and I was able to help with kashrut, and with teaching, and with cleaning, and some of the other things that I don't have the opportunity to do in my business, I can do as a volunteer, as a rabbinic lay leader.
The RA is looking to highlight the diversity of the rabbinate by featuring RA members across a variety of rabbinic roles in congregations, schools, organizations, and communities. To nominate a colleague, email Diana Denza, our Marketing and Communications Specialist, at ddenza@rabbinicalassembly.org. Please provide your colleague's full name along with a paragraph about why you're nominating them in the body of your email.