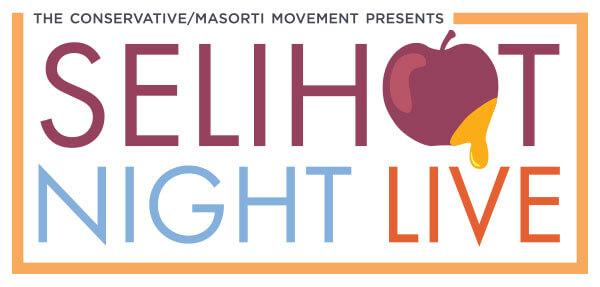 ​
Saturday, August 28 from 8:30 PM - 1:00 AM ET
Selihot Night Live is right around the corner! This year, there will be just ONE Zoom link – sponsoring organizations will have access to that Zoom. Otherwise, we welcome you to watch the livestream on our YouTube channel.
This year as some communities are gathering in-person, while some prefer to stay home, we are also curating a list of online Selihot services that are open to the public and we will share this list widely. Please click here to share the information about your service.
---
Selihot Learning Schedule:
Times are listed in ET. 
| | | |
| --- | --- | --- |
| 8:30-8:40pm | Hazzan Rabbi Luis Cattan | Havdalah & Welcome |
| 8:40-9:10pm | Chancellor Shuly Rubin Schwartz | What's Love Got to Do With It? Reflections on the Yamim Noraim |
| 9:10-9:40pm | Rabbi Ben Herman | Living with the Unknown |
| 9:40-10:10pm | Rabbi Elie Kaunfer | The Deeper Meaning of Avinu Malkeinu |
| 10:10-10:40pm | Rabbi Cantor Lilly Kaufman | Learning from God's Blessing at the End of the Akedah Story |
| 10:40-11:10pm | Rabbi Paul Kerbel | Casting Away Your Sins: Tashlich in the Jewish Tradition |
| 11:10pm-12:00am | Rabbis Adam Kligfeld, Rebecca Schatz, Cantor Hillary Chorny, and Ziegler SRS Interns | Havdalah and Niggun & Nourishment |
| 12-12:30am | Rabbi Ari Saks & Avital Morris | Did God Only Choose the Jews? A "fishbowl chevruta" on key sources connecting the prohibitions of intermarriage and idolatry |
| 12:30-1am | Rabbi Amy Levin | To Whom Do We Pray? |