Posted on: Monday July 18, 2022
Saturday Night,
September 17, 2022
​
​Last Updated:  September 15, 2022
Click for Selihot Night Live in Israel and Europe
Selijot Noche en Vivo Información en español
---
Selihot Night Live in North and South America 2022 Recording
Click Here to Download Source Sheets and Schedule!
Thank you to all of our sponsors and participants for making Selihot Night Live! 2022 a success!
Sponsoring Organizations and Congregations
Organizations
United Synagogue of Conservative Judaism - New York, NY
Women's League for Conservative Judaism - New York, NY
Masorti Olami - Jerusalem, Israel
The Masorti Movement - Jerusalem, Israel
Congregations
Mosaic Law Congregation - Sacramento, CA
Temple Sholom of Greenwich - Greenwich, CT
Aventura Turnberry Jewish Center - Aventura, FL
Congregation Shaarei Kodesh - Boca Raton, FL
Congregation Kol Chaverim - Davie, FL
Congregation Rodef Sholom - Tampa, FL
Sinai Synagogue - South Bend, IN
Tifereth Israel Synagogue - Des Moines, IA
Congregation Beth Israel - Worcester, MA
Congregation Kol Shalom - Annapolis, MD
Adat Chaim Synagogue - Owings Mills, MD
Beth Meyer Synagogue - Raleigh, NC
Bnai Israel Congregation- Wilmington, NC
Pine Brook Jewish Center - Montville, NJ
Congregation Torat El - Oakhurst, NJ
Temple Beth El - Somerset, NJ
Greenburgh Hebrew Center - Dobbs Ferry, NY
Forest Hills Jewish Center - Forest Hills, NY
Congregation Agudat Achim - Niskayuna, NY
Temple Adath Yeshurun - Syracuse, NY
Congregation B'nai Sholom-Beth David - Rockville Centre, NY
Beth El Congregation - Akron, OH
Congregation Shaarey Tikvah - Beachwood, OH
Beth Jacob Synagogue - Hamilton, ON, Canada
Congregation B'nai Zion - El Paso, TX
Congregation Ahavath Sholom - Fort Worth, TX
Congregation Or Ami - Houston, TX
Congregation Etz Hayim - Arlington, VA
Rodef Sholom Temple - Newport News, VA
Temple Beth-El - Richmond, VA
Beth Israel Synagogue - Roanoke, VA
la Noche de sábado
17 de septiembre de 2022
Nos emocionamos al anunciar el horario de programación para Selihot Night Live! Para nuestras comunidades en las Américas continentales.  El programa comenzará después del Shabat a las 9:00 PM en Buenos Aires/Sao Paolo y a las 8:00 PM para aquellos en la zona horaria del este (Eastern) de América del Norte.
Todas las presentaciones serán en inglés con traducción al español disponible.  El horario de programación se halla abajo.  Este programa puede ser utilizado por comunidades que no alcanzan a ofrecer Selihot, o como suplemento programático además de programas de Selihot en vivo.  Si Ud. o su comunidad desea co-patrocinar este evento, se puede apoyarlo aquí:
https://www.rabbinicalassembly.org/civicrm/event/register?id=1532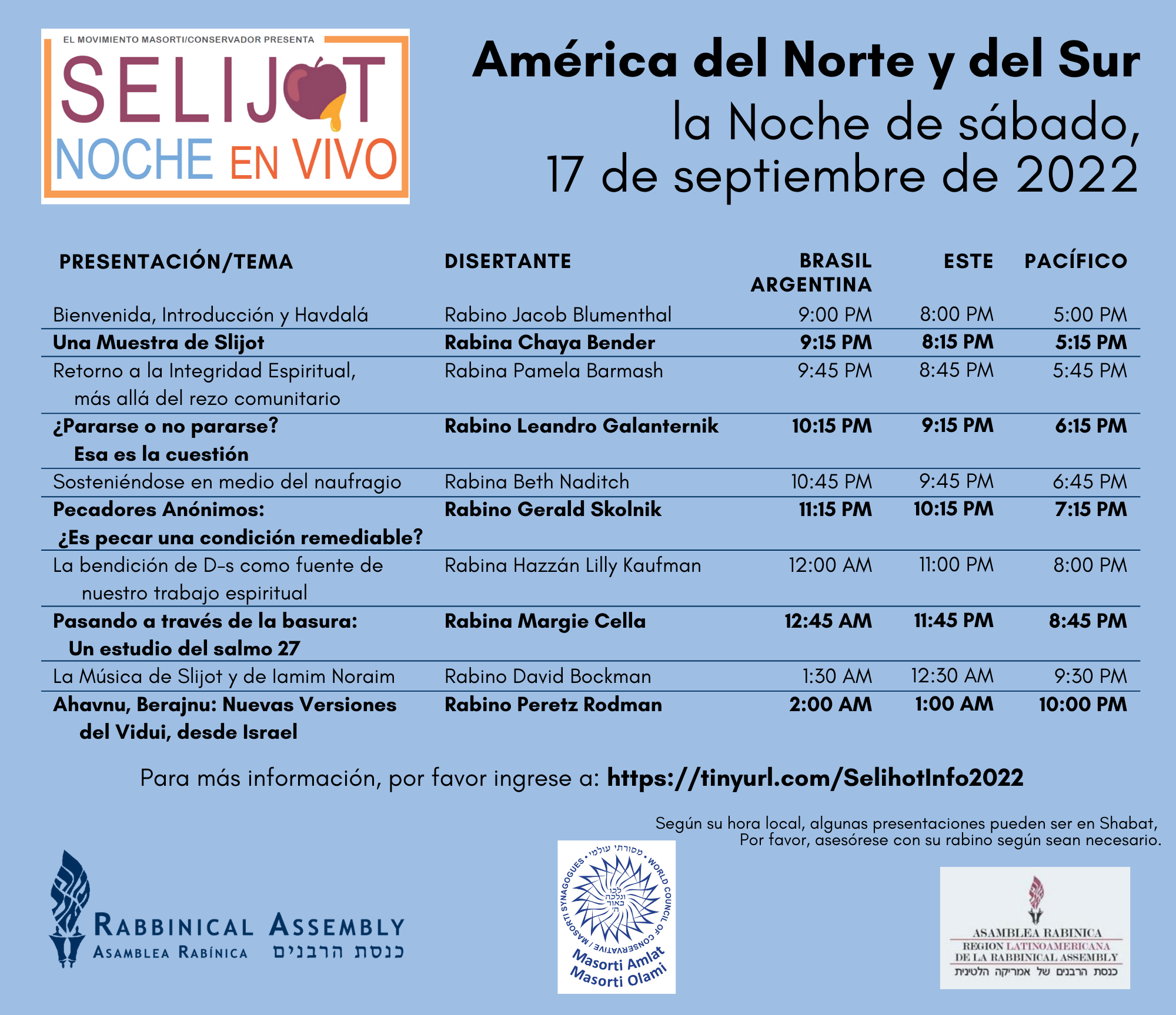 ---
Selihot Night Live in Europe and Israel
Rabbis from Israel and Europe teach and lead Selihot in English and Hebrew, with translation into Hebrew and English.
Register here to receive information and the link:  ערב סליחות בשידור חי (jotform.com)