Megillat Hashoah: The Holocaust Scroll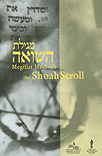 Avigdor Shinan
Jules Harlow, translator
single copy: $7.00
25-49 copies: $5.50
50-99 copies: $5.00
100 or more: $4.25
Pages 68 pb

This powerful liturgical text was created to be read on Yom ha-Shoah. The text contains six chapters in memory of the Six Million; some of the chapters are designed to be chanted using the cantillation of the scroll of Eikhah. A project of the Schechter Institute of Jewish Studies in Jerusalem and the Rabbinical Assembly.