Posted on: Thursday April 8, 2021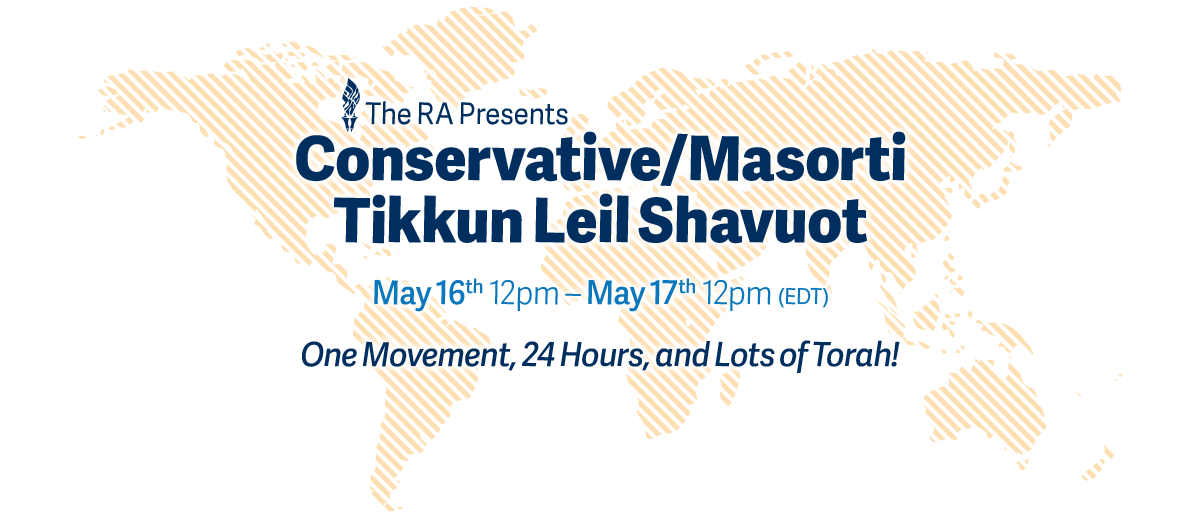 ​
Thank you to the congregations and organizations that are generously supporting Tikkun Leil Shavuot 5781 from May 16th at 12:00 PM – May 17th at 12:00 PM EDT. To join this program as a paid partner, co-sponsor, or participating organization, please click here. Please reach out to Ilana Garber if you have any questions.

List last updated on June 1, 2021.

Partners:
Co-Sponsors:
Ziegler School of Rabbinic Studies
Jewish Educators Assembly (JEA)
North American Association of Synagogue Executives (NAASE)
Temple Beth El Mekor Chayim (Cranford, NJ)
Jacksonville Jewish Center (Jacksonville, FL)
B'nai Tikvoh-Sholom/Neshama Center for Lifelong Learning (Bloomfield, CT)
Congregation Beth El (Norwalk, CT)
Tikvat Israel (Rockville, MD)
Congregation B'nai Zion (El Paso, TX)
Congregation Or Ami (Houston, TX)
Congregation Bnai Amoona (St. Louis, MO)
Knesset Israel (Pittsfield, MA)
Congregation B'nai Israel (Tustin, CA)
Temple Beth Sholom (Cherry Hill, NJ)
Mercaz USA
Congregation Beth Am Israel (Penn Valley, PA)
Beth El Temple (West Hartford, CT)
Congregation Beth Yeshurun (Houston, TX)
Congregation Adath Jeshurun (Elkins Park, PA)
The Jewish Theological Seminary
Beth Israel Center (Madison, WI)
Congregation B'nai Israel (St. Petersburg, FL)
Congregation Agudat Achim (Schenectady, NY)
Congregation Brith Shalom (Bellaire, TX)
Har Zion Temple (Penn Valley, PA)
Congregation KTI (Port Chester, NY)
Morristown Jewish Center (Morristown, NJ)
Congregation Neveh Shalom (Portland, OR)
Woodbury Jewish Center (Woodbury, NY)
Beit Rayim Synagogue & School (Vaughan, ON)
Beth Sholom B'nai Israel (Manchester, CT)
Conservative Yeshiva (Jerusalem, Israel)
Temple Beth El Mekor Chayim (Cranford, NJ)
Temple Beth-El (Richmond, VA)
Masorti Olami
Beth El Synagogue (St. Louis Park, MN)
Forest Hills Jewish Center (Forest Hills, NY)
Sinai Temple (Los Angeles, CA)
Beth David B'nai Israel Beth Am (Toronto, ON)
Temple Emunah (Lexington, MA)
Congregation Beth David (Saratoga, CA)
Temple Gates of Prayer (Flushing, NY)
Town & Village Synagogue (New York, NY)
Temple Beth Sholom (Roslyn Heights, NY) 
Marlboro Jewish Center (Marlboro, NJ)
Congregation Har Shalom (Potomac, MD)
Congregation Habonim (New York, NY)
Congregation B'nai Sholom-Beth David (Rockville Centre, NY)
Congregation Ner Tamid of South Bay (Rancho Palos Verdes, CA)
Pine Brook Jewish Center (Montville, NJ)
Congregation Beth Torah (Richardson, TX)
Temple Emanu-el (Closter, NJ)
Congregation B'nai Shalom (Walnut Creek, CA)
Congregation B'nai Israel (Rumson, NJ)
Beth Israel Synagogue (Roanoke, VA)
Congregation Beth Shalom (San Francisco, CA)
Participating Organizations:
Congregation Shaare Torah (Gaithersburg, MD)
Temple Beth Or (Brick, NJ)
Tifereth Israel Synagogue (San Diego, CA)
Congregation Ohav Shalom (Albany, NY)
Temple Beth El (Stamford, CT)
Congregation Beth Ahm (West Bloomfield, MI)
Temple Beth Shalom (Spokane, WA)
Bet Shira Congregation (Miami, FL)
East Northport Jewish Center (East Northport, NY)
Temple Israel of Scranton (Scranton, PA)
Congregation Beth Israel (Worcester, MA)
Congregation B'nai Israel (Danbury, CT)
ICCJ (Flushing, NY)
Shomrei Torah - Wayne Conservative Congregation (Wayne, NJ)
Tifereth Israel Synagogue (Des Moines, IA)
Temple Adath Yeshurun (Syracuse, NY)
Kehilat Shalom (Montgomery Village, MD)
Rodef Sholom Temple (Newport News, VA)
Congregation Beth Shalom (Bermuda Dunes, CA)
Congregation Sinai (San Jose, CA)
Congregation Share Kodesh (Boca Raton, FL)
Masorti Prague (Prague, Czech Republic)
Fair Lawn Jewish Center/Congregation B'nai Israel (Fair Lawn, NJ)
Congregation Shaarei Kodesh (Boca Raton, FL)
Beth El Synagogue (Durham, NC)
Congregation Anshei Israel (Tucson, AZ)
Roosevelt Island Jewish Congregation (New York City, NY)
Congregation Ahavath Sholom (Fort Worth, TX)
Mishkan Torah (Greenbelt, MD)
Congregation Beth Shalom (Livingston, NJ)