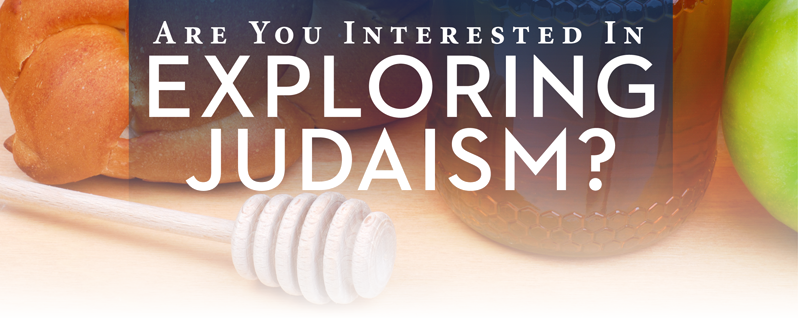 Exploring Judaism is a program of Jewish learning and experience sponsored by the Rabbinical Assembly of the Conservative Movement for those interested in learning more about Judaism as well as pursuing or thinking about conversion. We welcome individuals and couples of all backgrounds wishing to engage with our religious and cultural tradition through the unique Conservative movement perspective that understands Judaism as an ancient tradition based upon Biblical and rabbinic wisdom, evolving and adapting throughout history.
The next Exploring Judaism class will begin on Thursday, May 25. Registration is now open: Individuals | Couples

Dates on which the class will meet can be found here. Information about the instructor will be posted soon. If you have questions about the class, please be in touch with Rabbi Carol Levithan at 212-280-6056 or at clevithan@rabbinicalassembly.org.
Exploring Judaism includes a 24 session introduction to Judaism class with a basic Hebrew component along with a series of workshops led by congregational rabbis, visits to New York City Conservative synagogues and other experiences. The program director and class teacher will also be available for counseling and advisement.
Fees for the course: $550 per person/$850 per couple plus books.
Participating Conservative Rabbis in New York City
Bronx (Riverdale)

Rabbi Barry Dov Katz,
Conservative Synagogue Adath Israel of Riverdale

Brooklyn

Rabbi Matt Carl,
East Midwood Jewish Center

Rabbi Carie Carter,
Park Slope Jewish Center

Rabbi Dina Rosenberg,
Bay Ridge Jewish Center

Rabbi Eliseo D. Rozenwasser,
Temple Sholom

Rabbi Samuel Weintraub,
Kane Street Synagogue

Manhattan

Rabbi Rachel Ain,
The Sutton Place Synagogue

Rabbi Daniel Alder,
Brotherhood Synagogue

Rabbi Guy Austrian,
Fort Tryon Jewish Center

Rabbi Scott Bolton,
Congregation Or Zarua

Rabbi Marcelo Bronstein,
Congregation B'nai Jeshurun

Rabbi Elliot Cosgrove,
Park Avenue Synagogue

Rabbi Joseph Schwartz,
Conservative Synagogue of Fifth Avenue

Rabbi Jonah Geffen,
Congregation Shaare Zedek

Rabbi Jeremy Kalmanofsky,
Congregation Ansche Chesed

Congregation Habonim

Rabbi Rolando Matalon,
Congregation B'nai Jeshurun

Or Olam - The East 55th Street Synagogue

Rabbi Laurence Sebert,
Tifereth Israel Town & Village Synagogue

Queens

Rabbi Robin Fryer Bodzin,
Israel Center for Conservative Judaism

Rabbi Moshe Birnbaum,
Jewish Center of Kew Garden Hills

Rabbi Geoffrey Goldberg,
Jewish Center of Forest Hills West

Rabbi Gary Greene,
Marathon Jewish Community Center

Rabbi Manes Kogan,
Hillcrest Jewish Center

Rabbi Gerald Skolnik,
Forest Hills Jewish Center

Rabbi Gerald Sussman,
Temple Emanu El

Rabbi Albert Thaler,
Temple Gates of Prayer

Rabbi David Wise,
Hollis Hills Jewish Center

Rabbi Gordon Yaffe,
Little Neck Jewish Center

And…

Rabbi Joseph Potasnik,
New York Board of Rabbis

Rabbi Jan Uhrbach,
Conservative Synagogue of the Hamptons