History
Robert E. Fierstien, editor
List price $14.00
ISBN 0916219178
Pages 292 hc
Contact books@rabbinicalassembly.org or 201-216-9400 ext. 118 for more info.
This volume of essays presents the history of the Rabbinical Assembly and its influence on the development and direction of Conservative Judaism in America, Israel, and Latin America. Contributors to the volume include Professor Pamela Nadell and Rabbis Robert E. Fierstien, Herbert Rosenblum, Michael Panitz, Stanley Rabinowitz, Theodore Steinberg, Shmuel Szteinhendler, and Joel H. Meyers. Taken together, these essays present an important perspective on the shaping of Jewish religious experience in the twentieth century.
"These essays are required reading for the student of contemporary Jewish life." -Alan Silverstein, Agudath Israel Congregation, Caldwell, NJ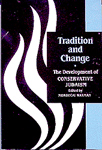 Mordecai Waxman
List price $14.95
ISBN 0838131166
Pages 477 pb
Originally published in 1958, this volume contains an extended introduction by the editor followed by classic statements by the founders and leading spokespersons of the Conservative movement. Included among the authors are: Cyrus Adler, Morris Adler, Jacob Agus, Louis Finkelstein, Zacharias Frankel, Israel Friedlander, Louis Ginzberg, Robert Gordis, Simon Greenberg, Mordecai Kaplan, Solomon Schechter, Milton Steinberg, and Henrietta Szold.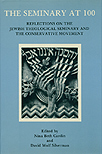 Nina Beth Cardin and David Wolf Silverman, editors
List price $17.95
ISBN 0916219054
Pages 475 pb
Published in 1987, this landmark anthology contains over 50 essays about the Conservative movement, its contributions and its mission. Contributors include Elliot Dorff, Joel Roth, Yochanan Muffs and Neil Gillman.