Conversion/ Basic Judaism
List price: $12.95
ISBN 9780881254853
Pages 133 pb
Contact books@rabbinicalassembly.org or 201-216-9400 ext. 118 for more info.
This handbook for prospective converts outlines and answers the questions most frequently asked by Jews by Choice. Both practical and anecdotal, this book provides insights into the conversion process, available options, and potential challenges.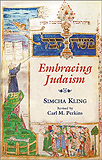 Simcha Kling
Revised by Carl M. Perkins
List price $14.00
ISBN 0916219151
Pages 240 pb

Since its original publication in 1987, Embracing Judaism has enjoyed much popularity as a warm and accessible introduction to Judaism and a supportive guide for Jews by choice. This book will bring readers closer to understanding the foundations and development of Judaism, as well as the basics of Jewish life and practice. This updated edition contains new material, a revised personal essay by Rachel Cowan, and a comprehensive bibliography.

Bradley Shavit Artson
List price $18.00
ISBN 0874425853
Pages 244 pb
A guide to Jewish living for those seeking to increase their level of Jewish commitment. From lighting Shabbat candles to volunteering in a homeless shelter, this book identifies hundreds of opportunities to transform daily living into Jewish living.
"It's a Mitzvah! is a rare commodity: a practical book to change your spiritual life. Rabbi Artson provides everything we need to begin and sustain a religious journey." -David Wolpe, Sinai Temple, Los Angeles, CA; and author
Discounted rate available for 6 or more copies.